There are 25 million meetings per day in America, alone! Yes, 25 million!! Now, think about those meeting invites going back and forth. How many of those emails are just text? How many of those emails are actually read? Wouldn't it help to have humorous meeting invites?
Today, we are doing a Humor Spotlight on Oak Park River Forest Chamber of Commerce, who tried something cool and humorous with their meeting invites.
Humorous Meeting Invites by a Chamber of Commerce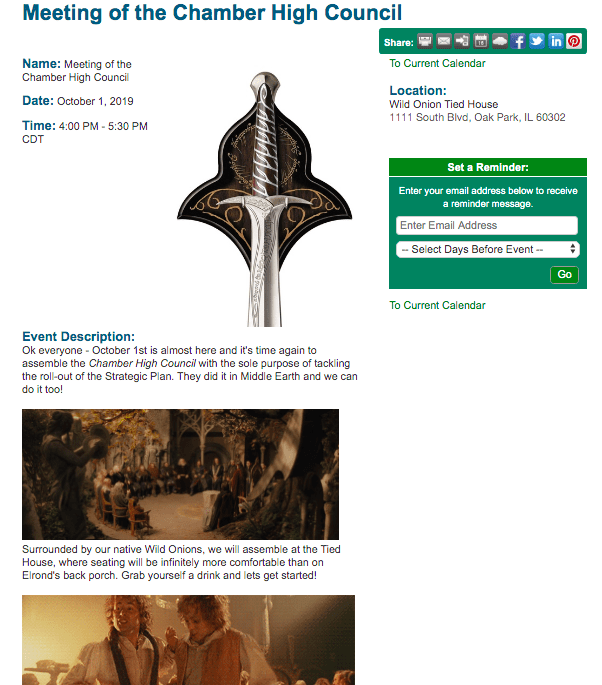 Kudos to Oak Park River Forest. After involving a little bit of humor, more people were attending the meeting and one person even came in a cape.
Humor is all about doing something a little differently and evoking a smile. Once you start involving more humor in the workplace, it can trigger many positive benefits, like increased productivity, reduced burnout and more creative decision making.
A few takeaways from including Humor in your Meeting Invites
Increased Enjoyment – by finding the humor, the meeting organizer is now enjoying organizing the meetings. It's a little more work, yet she thoroughly enjoys it, and the joy is spreading to her team. For the past 3 meetings, someone has actually brought a cape to work and wore it to the meeting!
Increased Attendance – attendance has been up dramatically for the past few meetings. No follow-up emails needed, people are intrigued now. Many employees are wondering "who will wear the cape this time?" and don't want to miss out!
Encouraging Storytelling – this one gesture has sparked more conversation and storytelling. Employees are interacting more leading up to the meeting and thinking about what else they could bring to the meeting.
A great example of how to improve the everyday culture at your organization, on a limited budget. Give it a try, who knows how many more people (or superheroes) will attend your meeting!
To learn more about Oak Park River Forest, visit their site at oprfchamber.org. To be considered for a humor spotlight post, contact [email protected].
Post written by Vandad Pourbahrami