A few months after Pablo Suarez's successful case study of humor for humanitarian work, he wanted to share the value of humor at the UN Climate Change Conference taking place in Poland in December 2018.
He once again reached out and we worked together to develop not just humor he could use in his presentation, but specifically how he could teach other people the skill of humor.
Why teach humor to climate workers?
The goal of Pablo's workshop was to inspire government officials, development practitioners, funders, scientists, and other participants on how they might improve their own climate work using humor.
Why? We could talk about the 30 benefits of using humor at work, or how it humor can improve problem solving, but the real reason is even simpler: because, as Pablo shared with his participants, in the work they do as climate workers, boredom has very serious consequences.
If you're giving important information on disaster preparedness, or managing risk due to climate events, and your audience looks like this: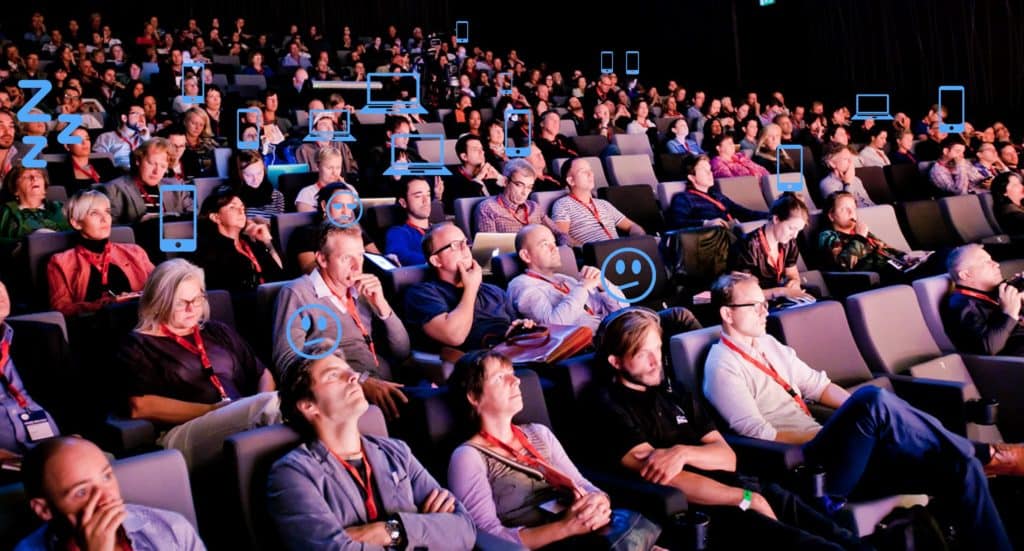 Do you think they're going to remember what you said or act on it (assuming they were even listening in the first place)? If what you teach is important, it's important you teach in a way people actually listen, something humor can help do.
What type of humor was used?
In addition to sharing interesting stories and incorporating games into his workshops, one of the things Pablo does incredibly well is partner with people who provide a different perspective. In this presentation, he worked with Bob Mankoff, Belina Raffy, and myself to make his case for humor.
First, with the help and insight of Bob Mankoff, Pablo incorporated a number of images into his presentations, including cartoons licensed from Cartoon Collections. Yes, Pablo is funny in his own right, but leveraging the humor used by someone else is another great way to get laughs in a presentation.
Second, partnering with Belina Raffy who runs the incredible Sustainable Stand Up organization, Pablo came up with some exercises for helping the participants start to develop their skill at creating humor.
And finally, he partnered with us to share the results of our previous case study on humor for humanitarian work, as well as other applications for using humor appropriately in a work setting.
What were the results of the workshop?
Pablo was able to engage his audience around climate disaster preparedness and increased their understanding of strategically using humor for mitigation and adaptation.
The feedback was positive and, hopefully by now, unsurprising:
Attendees of the program said it was eye-opening, fun, and funny.
96 percent of respondents said that humor is useful or very useful for humanitarian work.
93 percent said they were likely or very likely to incorporate humor into their work as a result of the program.
When asked what could be improved, one participant responded, "Deploy it globally."
What can we learn from this?
If you're thinking about how you might be able to teach other people the value of humor, a few things to take away from Pablo's work:
This work is desperately needed. As he shared, boredom has very serious consequences. But for people to engage, they need to feel connected to the story or issue. Humor can create that connection by relating complex issues to the individual experience.
You don't have to do this alone. Partner with people who are already doing this work, whether that's the Cartoon Collections, Sustainable Stand Up, or what we do.
Dare! Trust that people want your content to be more engaging and that humor isn't the antithesis of important. The majority of people think humor is important in the workplace.
Using humor in your own work is a great way to engage more people. Encouraging others to use humor in their work is a great way to change the world.
This post is a part of our series on Humor in Unexpected Places.