The following are books available published by Humor That Works:
Humor That Works: 501 Ways to Use Humor to Beat Stress, Increase Productivity, and Have Fun at Work.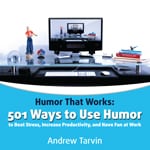 Want to get started using humor in the workplace but don't know how? Pick up 501 ways to use humor to improve communication, build relationships, enhance problem solving, increase productivity, and strategically disengage.
50 Quotations Series
Looking to be inspired? Pick up one of our books on 50 quotations. Topics include humor, laughter, and happiness.