I don't know about you, but with the amount of time I spend in meetings, I need some work humor.  Here are some of the best one liners and jokes about meetings.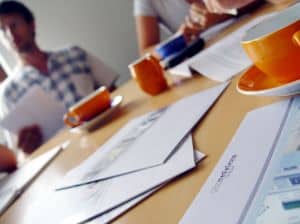 On Meeting Length:
I propose a new rule: meetings can not last longer than my laptop battery or my bladder.
On Committees:
There's a reason they're called committees.  When you're on one for too long, you start to think about committing something else- suicide, murder, yourself into a mental institute.
On What You Learn in Meetings:
I learn a lot in meetings.  For instance, did you know that by bending a paper clip once, you can make a pretty cool 'S'?
On Nodding in Meetings:
I think the reason we "nod off to sleep" is so it almost looks like we're just emphatically agreeing whenever we're in a boring meeting.
On Conference Calls:
I don't know what ferences are, but based on how I feel about conference calls, I must be proference.
On Early Morning Calls:
My alarm clock broke so I've started scheduling early morning calls at the time I want to wake up.
On Meeting Topics:
My biggest issue with meetings is that, despite their name, they are rarely about me.