I don't know about you, but with the amount of time my team spends in meetings, we need some meeting jokes. Meeting jokes are our favorite kind of funny work jokes. Here are some of our favorite meeting jokes and top one liners to create fun at work.
Meeting Jokes on…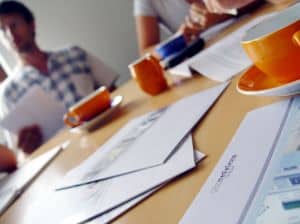 Meeting Length:
I propose a new rule: meetings can not last longer than my laptop battery or my bladder.
Committees:
There's a reason they're called committees. When you're on one for too long, you start to think about committing something else- suicide, murder, yourself into a mental institute.
What You Learn in Meetings:
I learn a lot in meetings. For instance, did you know that by bending a paper clip once, you can make a pretty cool 'S'?
Nodding in Meetings:
I think the reason we "nod off to sleep" is so it almost looks like we're just emphatically agreeing whenever we're in a boring meeting.
Conference Calls:
I don't know what ferences are, but based on how I feel about conference calls, I must be proference.
Early Morning Calls:
My alarm clock broke so I've started scheduling early morning calls at the time I want to wake up.
Meeting Topics:
My biggest issue with meetings is that, despite their name, they are rarely about me.