Congratulations to the 2013 Corporate Humor Award Winners! Be sure to check out each award category to learn why each organization and individual was selected. Note: The winner is shown (with other finalists) in bold.
Organization Corporate Humor Awards
Humorous Beginnings Award (Best Onboarding Program)
Finalists: MasterCard, Netflix, Valve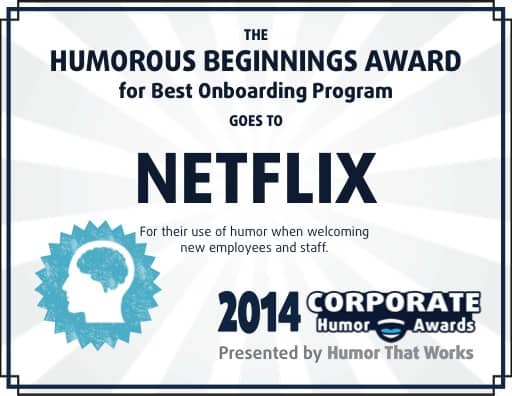 Learned Me Good Award (Best Training Event)
Finalists: Blue Cross Blue Shield of Michigan, Gables Residential, Kiewit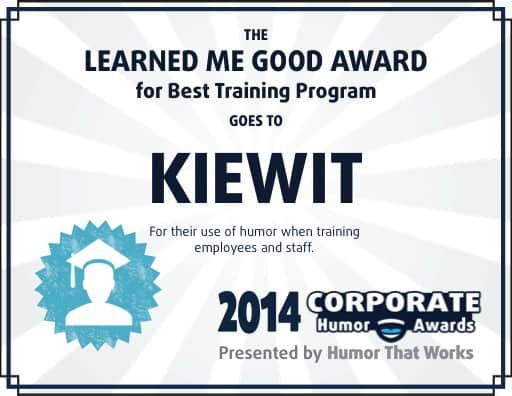 A Site to See Award (Best Website)
Finalists: Black Acre Brewing, Kit Kat, Woot.com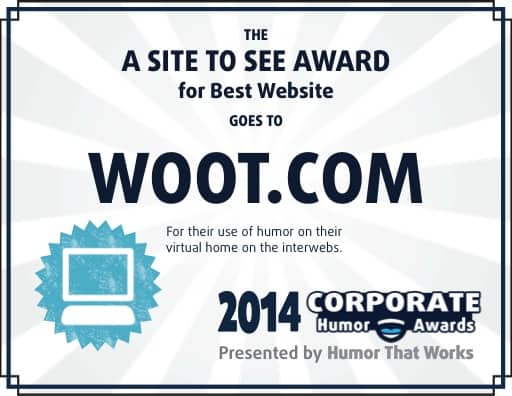 Money Isn't Everything Award  (Best Perk)
Finalists: Double Encore, Frederick County Bank, Medallia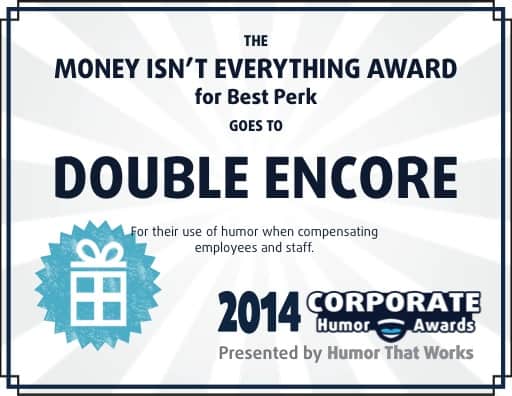 Better Recognize Award (Best Recognition Program)
Finalists: Frederick County Bank, Globoforce, Hilcorp Energy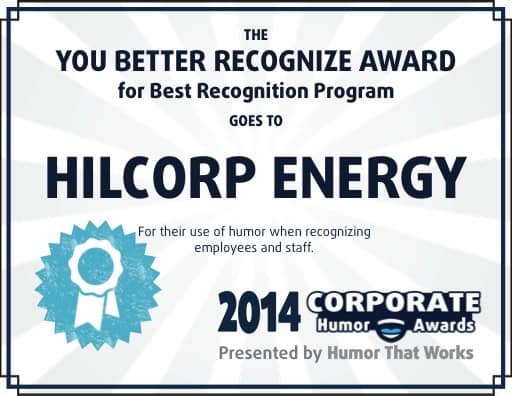 The Most Humorous Company Award (Best Corporate Culture)
Finalists: DPR Construction, Frederick County Bank, Gorilla Glue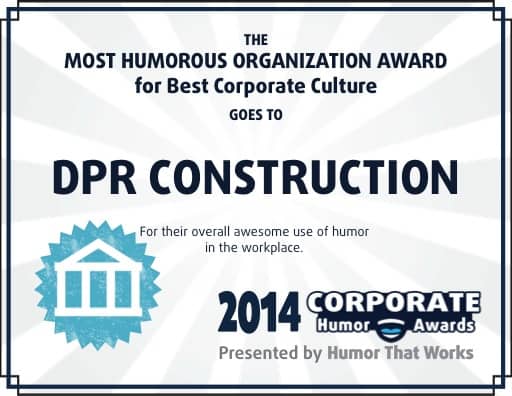 Individual Corporate Humor Awards
Always Mark as Read Award (Best Email)
Finalists: "Captain Mike", Dan Lewis, Mandi Runkles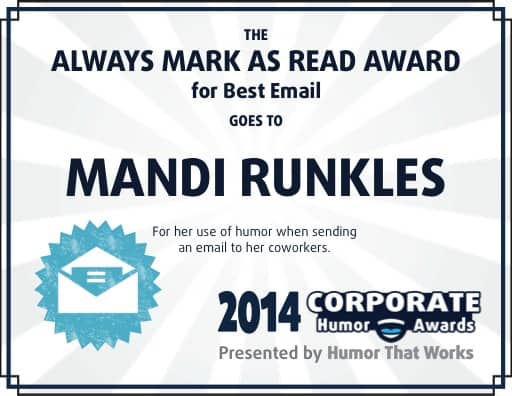 Let the Man/Woman Speak Award (Best Presentation)
Finalists: Kelly McGonical, Gavin McMahon, Christopher Pruijsen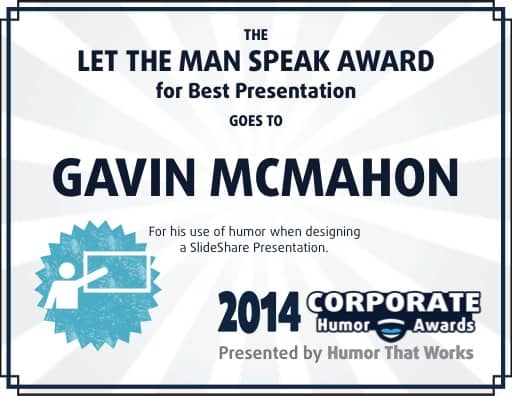 Hollywood Bound Award (Best Video)
Finalists: Katz Americas Marketing Department, Lauris Beinerts, Tripp and Tyler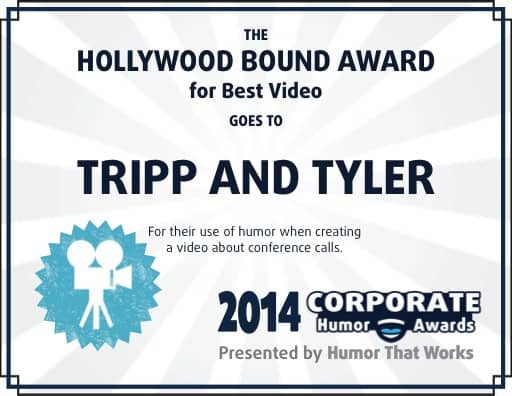 Gather Around and Listen Award (Best Story)
Finalists: Jackie Chan, A Greenster, Chris Hadfield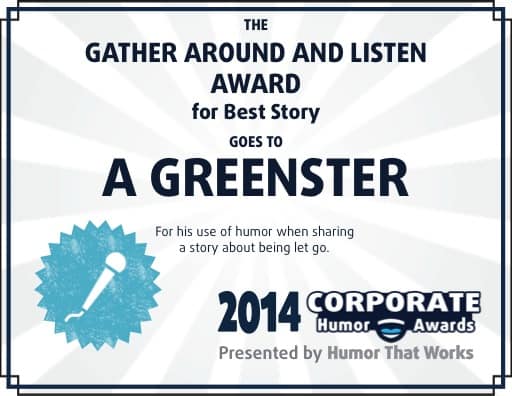 And We're Still Friends Award (Best Prank)
Finalists: Greg Benson, Improv Everywhere, Swiftkey Team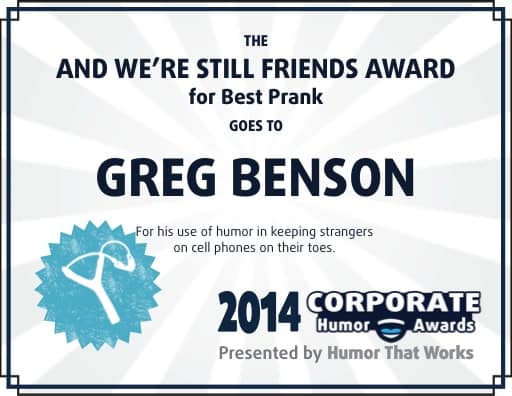 The Most Humorous Individual Award (Best Humorist)
Finalists: Johnny Barnes, Liysa Callsen, Kathy Keaton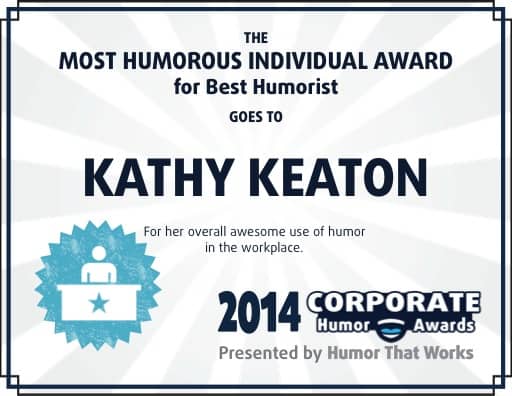 Custom Awards
These awards were created, with winners selected by, the nominators.
Best Re-Allocation of Room Designations Award
Winner: Beth Slazak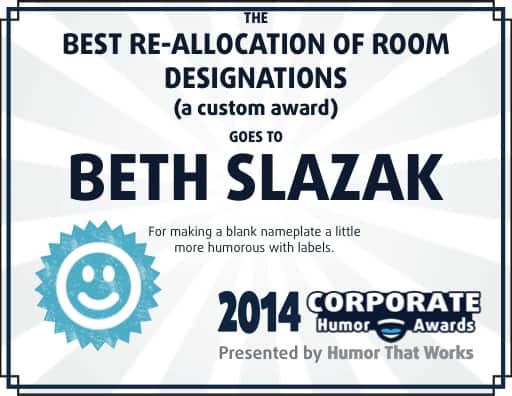 Best Surreptitious Selfies at Others Non Expense
Winner: Danette Pawlowski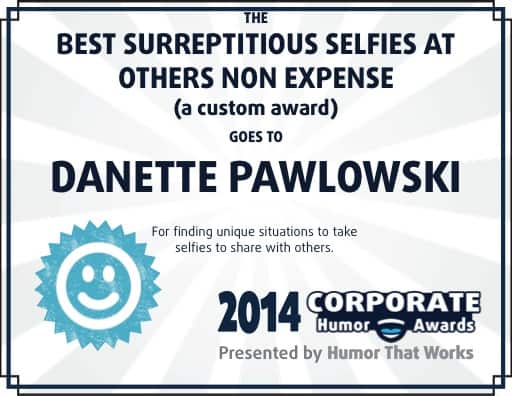 To see all of the winning entries, visit the 2014 winners posts. To see all of the finalists, visit the 2014 finalists posts.