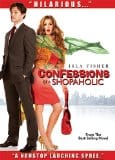 I recently flew from Dallas to NYC after a long day of training. I didn't really feel like being productive and couldn't find a comfortable sleeping position, which left only one option to pass the time–watch the in-flight movie, Confessions of a Shopaholic.
Much to my surprise, the movie wasn't as bad as I thought it would be. That's not to say it wasn't cheesy or over-the-top, but I was actually able to garner some pretty insightful lessons from the film.
With all that (and your pre-judgments aside), here's what I learned from Confessions of a Shopaholic:
1. There's no such thing as boring topics, only boring writers.
This is actually what I picked up to be a major theme in the movie (after the romance and shopping). If you aren't familiar with the storyline, Confessions is about a woman journalist obsessed with shopping who becomes anonymously famous by writing financial articles told from a shopper's point of view–articles like detailing how Store Credit Cards are like a knock-off cashmere coat.
The completely believable message here is that readers want to learn about such topics as finances, they just want to learn about it in a way that makes sense to them. It's similar to how Rubin explains ancient philosophy using pro wrestling in the movie Road Trip.
People are willing to learn just about anything, as long as it's told a compelling way.
2. We want people to succeed.
As I watched the film, I found myself wanting Rebecca to find happiness, and cringed every time she did something to jeopardize her goals. I felt this despite not really caring about the overall subject of the movie and without having much I could relate to in terms of understanding a shopping "addiction."
The natural human condition is to empathize with others and to want them to be happy. It's why most people prefer happy endings over stories that end in hardship or disappointment. I certainly preferred Rebecca reaching her objective even though Confessions is hardly my "type" of movie.
And this doesn't just apply to fictional characters we see on the screen. Many actors hate the audition process and think that casting directors dislike them for no apparent reason. But that doesn't make sense–the directors want you to succeed; they want you to be that next amazing actor that is perfect for their role. Because if you're that person, their search is over, they've done their job, and the project can move forward.
The same is true for interviewers and managers. Even if they don't have a natural tendency to be empathetic, they do want to find that perfect person for the job, and they want it to be you.
3. Lying is hard work.
Many of the conflicts in Confessions began from lies and attempts to save face. In a sense, Rebecca's obsession with shopping is just an attempt to cover up her own securities. Each lie she told was another story or façade she had to maintain.
Honesty is so much easier. When you're honest, there's nothing you have to remember other than the truth. It may feel a little harder to be honest at first, but you'll find the truth is easier, and better, in the long run. Not to mention, people will respect your honesty. They may not agree with you, but at least you didn't try to trick them or act like someone you aren't.
4. Actress Isla Fisher looks like Deborah Messing.
(Not everything you learn is useful.)
Who knew you could learn all that from a cheesy movie about shopping?  Seen the movie? Let me know what you learned in the comments. Want to see what I saw? Pick up the movie on Amazon.com: Confessions of a Shopaholic.