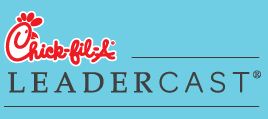 An entire day of leadership speeches is bound to deliver a number of great ideas, and the speakers at the 2012 Chick-Fil-A Leadercast event did not disappoint. Here are some of the things that stuck out to me from the conference last Friday.
From Andy Stanley
Andy Stanley is a best-selling author, leadership speaker and pastor.
3 questions for leaders: 1) What would my replacement do? 2) What would a great leader do? 3) What story do I want to tell?
Every decision you make becomes nothing more than part of the story you tell.
Money comes, money goes, but the story is forever.
Interview with Tim Tebow and Urban Meyer (conducted by Soledad O'Brien)
Tim Tebow is an NFL Quarterback, author and philanthropist. Urban Meyer is the head football coach at The Ohio State University and former coach of Tim Tebow.
Everyone is a leader. Maybe for only 1 person but someone is watching you and following what you do.
To celebrities who say "I'm not a role model." Yes you are, you're just not a very good one.
People are always saying, "I can't wait until this over." I think "I can't wait to get to do this."
Being a leader means 3 things: 1) Love what you do. 2) Be passionate. 3) Make sacrifices.
Will you choose to make a difference?
Interview with Angela Ahrendts (conducted by John Maxwell)
Angela Ahrendts is the CEO of Burberry and has been frequently listed in Forbes "100 Most Powerful Women" list.
Trust was how we lead the change at Burberry.
We are in the people business.
We don't want to just be a great brand, we want to be a great company.
From Marcus Buckingham
Marcus Buckingham is a best-selling author and strength strategist.
Authenticity is the key to leadership.
Competency models are the best we have for leadership today. What we need is algorithmic leadership.
Leadership is idiosyncratic and the techniques of one may not transfer to another.
There is no perfect profile of leadership, only perfect practices for your profile of leadership.
Your challenge is to take what is unique about you and make it useful.
From John Maxwell
John Maxwell is a leadership expert and best-selling author of a number of books including The 21 Irrefutable Laws of Leadership.
Transformation starts with the leader of an organization.
We make a decision and then manage that decision for the rest of our life.
Your life can change with a thought and a decision.
The personal growth law of intetionality: we have to grow on purpose. It doesn't happen automatically.
Put your money where your values are.
The secret of your success is determined by your daily agenda.
The 3 R's of knowing yourself: 1) Requirement (what do you have to do?), 2) Return (what are your strengths?), 3) Reward (what do you like to do?).
From Soledad O'Brien
Soledad O'Brien is a Emmy award-winning anchor and special correspondent.
Martin Luther King, Jr was just a regular man. He decided to set out and change things.
From Dr. Roland Fryer
Dr. Roland Fryer is a Harvard Professor and CEO of the Education Innovation Library.
People will rise (or fall) to your expectations.
From Dr. Sheena Iyengar
Dr. Sheena Iyengar is an author and world-renowned expert on choice.
What makes a leader? Fate? Chance? Choice?
Effective leaders see choices through others' eyes.
More choices lead to more trials, but less choices lead to more purchases.
The impact of too many choices: 1) More likely to delay even if consequences; 2) They make poorer choices; 3) Less satisfied with their choice (what if…).
From Pat Lencioni
Pat Lencioni is President of The Table Group and best-selling author of the book The Five Dysfunctions of a Team.
A competitive advantage for any company that is free, accessible and virtually untapped: organizational health.
3 biases of CEOs: sophistication, adrenaline, quantifiable.
You know you have a core value when you get punished for it.
You can't be a leader if you want to be cool. If your team can't do a good impression of you, you need more repeating.
There you go, some great ideas from the Chick-Fil-A Leadercast. You can check out a few pictures on the Humor That Works Facebook Page.