Andrew Tarvin is an award-winning speaker, best-selling author, and international humorist. He's also the author of this site so he's going to stop talking in the third person now.
As a humor engineer, I help individuals and organizations who want to be more productive, less stressed, and happier at work. From 10-minute TED-style talks to weeklong consulting engagements, my focus is helping you and/or your organization achieve greater results while having fun.
Keynote Programs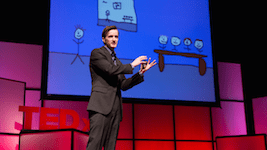 HUMOR THAT WORKS:
How to Be More Productive, Less Stressed, and Happier
The $500 Billion Problem at Work
Why Humor is a Must-have
How to Use Humor to Get Better Results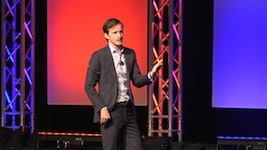 LEADING ON YOUR FEET:
The Art and Science of Leadership Through Improvisation
Leadership as a Mindset
The Dangers of Unleadership
5 Skills for Leading Through Change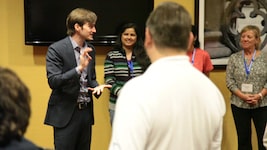 MASTERING OFFICE COMMUNICATION:
How to Communicate Any Message to Anyone
Listening to Understand
The 2Rs of Effective Communication
Actionable Tips for Email, Conversations, Meetings, and Presentations
All programs are customized to the organization. Previous custom programs include:
Project Management Training | University Programs | Start Up Consulting
Want to bring one of my programs to your next event?
What Clients are Saying

Andrew's session was phenomenal. He was serious in the message he was delivering but humorous and funny at the same time. It was the highest rated session of the day.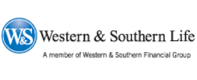 Andrew was open, flexible, patient, and totally professional. He delivered exactly the right message in exactly the right way.

Andrew did a terrific job, it was exactly what we were looking for. The Board was very happy and the audience enjoyed it.
Join hundreds of organizations who have worked with me, including:
Client Resources
Ready to work together to help build your organization?