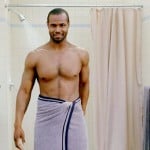 The most recent Old Spice campaign has generated over 100 million views online; the Old Spice channel on Youtube has over 100,000 subscribers; there are nearly 700,000 fans on Facebook.  What started out as a well-done commercial for Old Spice has turned into a hilarious internet phenom–and all of this for body wash and deodorant.
Isaiah Mustafa, aka The Man Your Man Could Smell Like, has helped launch the Old Spice brand into social media stardom with one of the most popular social media campaigns of all time.  The original video (shown below) generated 15 million views on Youtube and over 20,000 comments.  But the Old Spice group wasn't done.  They've since released another video (now with over 10 million views) and have made over 180 video responses to social media comments–generating thousands more comments and over 100 million views online.
The entire campaign has been a showcase for the power of humor.  The reason the videos have exploded into popularity is, simply put, they are hilarious (although I'm sure having an attractive, athletic man with no shirt on doesn't hurt).
What's so Humorous
I could try to describe all of the intricate details of what makes the videos work, but a picture is worth a thousand words, so the video is probably worth a million:
Why the Humor Works
The collective humor of the entire Old Spice campaign works for a number of reasons, many of which are re-applicable to a variety of work contexts (not just marketing):
They know their audience. The commercials speak directly to women ("Hello Ladies") but are targeted to both men (the amount of humor and assumptions about what women want) and women (making a man smell better and a man with no shirt on).  What's more, when the original commercial went viral, the agency realized the most receptive audience wasn't people sitting on a couch watching TV but people at their computers, so they went to the interwebs with direct video responses to comments made by influential social media moguls.
They are confident. Part of the reason the commercials are so successful (and why Mustafa now has a development deal) is because Mustafa plays the role perfectly and is confident with everything he is saying.  If he meekly tried to deliver these lines, it would never have worked–it's his swagger that defines the humor.
They have the element of surprise. Laughter is caused by a break in expectation, and the videos are one surprise after another.  The flowing changes in scenery and objects constantly surprises us with delight as we see The Man Your Man Could Smell Like go from a shower to a boat to riding a horse in one seamless take.
Of course there's more than just those 3 elements to consider–such as the hard work by the agency to do clever writing, proper promotion, and the shear work required to create over 150 videos responses, but those basics are something we can all learn from the videos.  And if you're wondering how they could create so many videos (shooting as many as 40 in one day) in such a short time, the answer is improv.  In a talk with GameChangers,  Dean McBeth, Digital Strategist on the Old Spice brand said "Improvisation is the single most important factor in the success of the Old Spice Guy campaign."
For more on the videos, check out the Top 10 Old Spice Guy Video Responses.