The following downloads are meant to help you take action right away on very specific topics.
Whether it's incorporating humor into the very next activity you do, or it's setting up something like an employee awards program, you'll find everything you need to actually get something done today.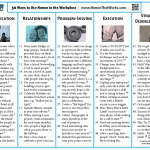 50 Ways to Use Humor in the Workplace
A handout that shares 50 ways you can start using humor in the workplace right now (as in the next few minutes, seriously).
10 Reasons You Should Use Humor at Work
10 scientifically-backed reasons you should humor at work (hint: it's going to make you a better employee, increase your happiness, and possibly even make you more money).
Humor at Work-sheet
A checklist you can follow to help you find the right type of humor for your event.
Employee Awards Program Kit
Everything you need to know to host your own employee awards program. Drawing from the resources used to launch the Corporate Humor Awards, this kit will get you started on creating your own awards program.
Return to Humor Resources.