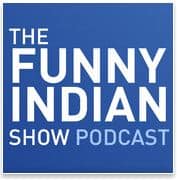 Good friend and Funny Indian Rajiv Satyal (who recently brought me on stage) was in NY last week and interviewed me for his Funny Indian podcast. Rajiv's instructions on how to access it:
Click "View in iTunes."
Click "Subscribe for Free."
Listen and enjoy.
Rajiv has also interviewed some other great guests, including comedian Godfrey, UCB Founder Matt Walsh, and actor Kevin Nealon.
In our conversation, Rajiv and I discuss the concept of humor in the workplace, how I got started with office humor, and of course the merits of hip-hop and inspiration. Check it out!