Cincinnati, OH – I had the privilege of working with the Asian Pacific Americans (APA) group at a Fortune 25 company for not one but two different activities this past week.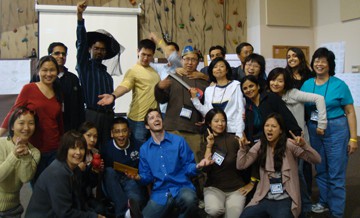 The first was an improvised talent show where I was blown away by what people were able to create with just 45-minutes of prep (including a personalized parody of Boom Boom Pow by Black Eyed Peas)
The second was the Humor That Works Crash Course which covered the reason humor is needed at work and why you should be the one to use it, and a workshop hitting on some of the basics of how to be more humorous.
Both sessions went very well and not only helped with team-building, they walked away with steps for using humor at work as soon as they return their real jobs next week.
Click to find out what you could learn from the Humor That Works Humor Bootcamp.
Update: We got the results back from the survey and they were incredibly positive–an average rating of 4.2/5.0. Regarding the Improv Show, attendees said "I love how much people opened up themselves" and it was "Best creative show I've ever seen." For the Humor Crash Course, the feedback was "Fun relevant activities" and "Tons of fun."