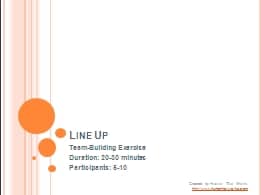 New York, NY – A new associate director was recently appointed to lead our project management organization at work. When she came to New York to meet our team, I was asked to lead a team-building event that would help us all get to know each other while also being engaging (and that could be done in 20 minutes).
For the occasion, I lead the team through a team-building line-up that explored different aspects of our personalities and histories in a physical and visual manner. In no time, we were laughing with and learning about each other.
To find out how to do the line-up exercise, check out this post: Team-Building Exercise: Line-Up.