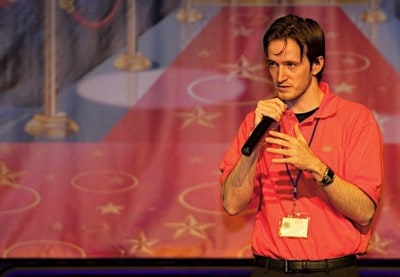 Columbus, OH – I've worked on some great team-building events in the past, but nothing quite like what we lead a group through this past week.
When I was tasked with coming up with a team-building activity for 350 people for 3 hours and a $3,000 budget, I knew it was going to be tough. But I had an awesome sub-team with creative minds and a lot of passion.
So what do you do with such limited constraints? A Duct-Tape Fashion Show of course. With limited supplies and only 90 minutes to build, 30 teams came up with some incredible fashion outfits made out of duct tape. Then they paraded them down a fashion runway in front of their peers, managers and direct reports.
I was lucky enough to be the MC for the fashion show and I've never had such a hard time keeping a straight face because the outfits were incredible. I wish I could show you the pictures (they are phenomenal) but I have been sworn to secrecy due to some rather interesting photos (let's just say one manager found himself in a rather elaborate red Duct-Tape dress).
If you'd like help hosting your own Duct Tape Fashion Show, contact us about your upcoming event.