Cincinnati, OH – For the second straight year, I've worked with emerging leaders as part of the Asian Pacific Americans group at a Fortune 25 Company. This year we had two activities, one for team-building and the other for skill-building.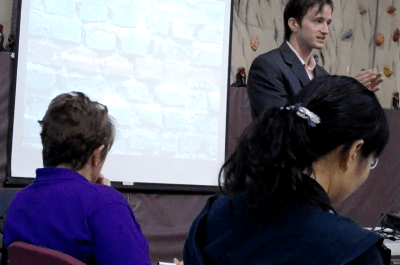 The first was a storytelling session around a camp fire. It was a casual event where we talked about the value of storytelling and some basic ideas to keep in mind, and then just shared stories to learn more about each other.
The second activity the next morning was on motivating leadership. We followed the HTW standard format of Theory -> Practice -> Application and by the end had the participants practicing leadership skills in work specific scenarios.
UPDATE: I received a message from one of the planners with feedback on the event:
100% of attendees rated the session Excellent (5 out of 5).
It was the highest rated event of the entire week.
There were a few great verbatims: "This was the best day of all." "Awesome!" "We've already recommended you for next year's session."
Thanks go to all of the awesome participants. To see if this would work for your group, check out our
corporate humor programs
to find out more.