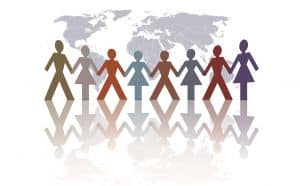 Columbus, OH – How do you help a smaller organization feel like a part of a larger organization when they only represent 10% of the organization? That was the topic of discussion in a session I co-lead with some HR leaders called Building an Inclusive Organization.
After a review of recent survey results and a brief training on inclusive organizations, we lead 60 people, split up into teams, in coming up with actionable ways the organization and individuals can create a more inclusive organization.
The results were pretty incredible and the organization leaders left with a list of more than 20 actionable steps that could be taken to improve the diversity and inclusion within the group.
For more on the importance of diversity, inclusion and relationships, check out our posts on work relationships.
Update: We got the results back and 97% of the attendees found the event  helpful with attendees saying "Great sessions with great presenters" and "Very engaging, thank you."