Baton Rouge, LA – While visiting my brother at LSU (he's getting his PhD there), I gave a guest lecture in two of his classes (Public Speaking and Argumentation and Debate). For both, I led the class through improv exercises and linked them back to becoming better public speakers.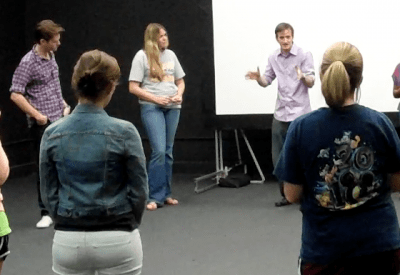 Both sessions were very well received and were so much fun to facilitate. While it felt a bit traitorish to be helping LSU students (given that I'm an OSU grad), the students were so great I didn't mind.
UPDATE: My brother shared with me some feedback from his class:
"The next time I have to deliver a speech,  I will be able to do it with more confidence than ever before."
"It was non conventional but very effective."
"When Drew was finished with his hour and a half production, I felt as though I could get up in front of any audience and speak with more confidence than I do in daily conversations with my peers."
To learn more about how improv could help teach your curriculum, check out our college humor programs.