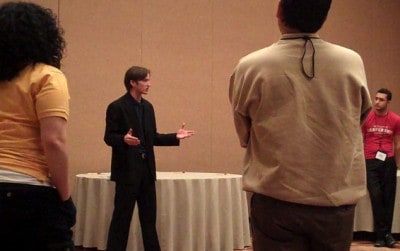 Las Vegas, NV – I was once again invited back to the P&G Prestige National Sales Meeting (this year dubbed Leadership University), but unlike in years past, I didn't perform stand-up. Instead, I taught members of the organization improvisation as part of their "recharge" sessions.
The classes focused on the most fundamental maxim in improvisation: the concept of "Yes And." We explored the application of Yes And in communication, relationships, problem solving and, of course, just having fun. The sessions were short (45-minutes), but powerful. Overall, the groups had a blast, with many participants suggesting it be required training at next year's event.
UPDATE: We got the results back from the post-event survey and the Improv Class ranked #2 out of all recharge sessions. Here is some anonymous feedback from the survey:
"Yay improv!"
"I thought Drew did a great job keeping the participants engaged."
"Loved the class…such a great way to refocus our energy!"
If you'd like to learn how improvisation classes could help your organization, check out the details of our humor class.