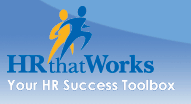 New York, NY – When Don from HRThatWorks contacted Humor That Works about doing a virtual humor training, we knew we had to do it–the synergy of the two names was too much to pass up.
HRThatWorks is a program dedicated to helping small businesses with all of their HR strategies and needs. As part of their program, each month they do a virtual training on hot topics in the HR field.
For my presentation, we talked about the importance of humor in the workplace and began discussing how to do it. Big thanks to all the attendees!
If you're interested in learning about the value of humor at work, check out our humor keynote.