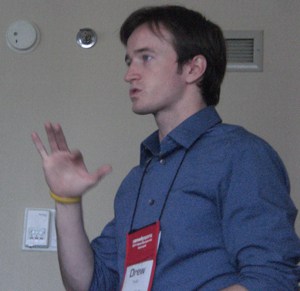 Indianapolis, IN – Just as I did in 2009 and 2010, I attended the annual ComedySportz tournament this year in Indianapolis. In addition to attending a number of great workshops and performing in some hilarious shows, I also lead an improv workshop for fellow improvisers.
Leading a workshop for other improvisers is always exciting but extra challenging–they are more than willing to do the exercises, but they've also done so many before that you want to make sure you bring something new for them to learn. I focused on exercises we as improvisers can do on our own, when we don't have the advantage of having fellow players to join us.
The workshop was very well received, with many people giving me the ultimate compliment: that they were going to "share and reapply" a lot of the concepts and teach them to their own teams. To learn more about the power of improv, check out our posts on improv for business program.