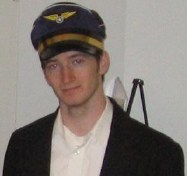 New York, NY – A co-worker and I were tasked with coming up with a creative way to launch one of the largest global initiatives for our company in our region. After some thoughtful brainstorming, mostly centered on your typical launch ideas, she came up with a brilliant idea–tying the launch to the cockpit concept of the application.
For the launch, the IT team dressed as pilots and flight attendants and walked the office with your standard (or at least used to be standard) airline food and beverages. We also passed out "boarding passes" that contained details about the application as well as upcoming training dates.
The launch was a great success, with our region ranking #2 for adoption within the first month of use.
Have an application launch coming up soon? Learn about humor training could help you plan a successful and exciting launch.