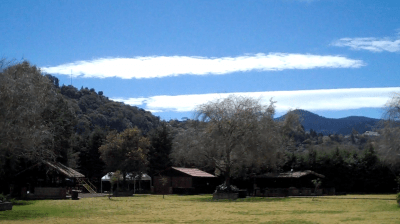 Mexico City, Mexico – I just returned from leading one of the more challenging (but incredibly awesome) workshops I've ever facilitated–a half-day workshop on communicating for a group of project managers from all over Latin America.
At first glance it may seem a little bizarre that an English presenter would lead a Communication workshop for people whose first language isn't English, but when it's for a global Fortune 50 company whose international language is English it makes sense. Plus the fundamentals of good communication are universal, whether your first language is English, Spanish or Sign Language.
The workshop started with a presentation on the basics of good communication, was followed by practicing those basics using improv exercises (outside in the beautiful field pictured above) and ended with a showcase of those skills in various business scenarios. Of course the number one language that was used that day wasn't English or Spanish but the universal language of laughter. And to my 80 new friends from the training, "Conejito conejito."
Think your organization could benefit from a similar training? Check out the details of the The Confident Communicator Training on thecommunication programs page.
Update: I just received the following note from the event organizer:
"Thanks Drew! You did a terrific job and our organization truly appreciated your training (more than 80 people). It was one of the favorites of the entire event." – Pablo
Thank you, Pablo and everyone else in attendance. I had a blast!