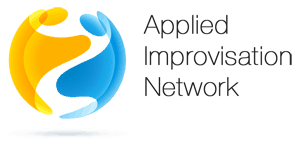 I've been accepted as a "qualified Applied Improvisation Network practitioner!"
The Applied Improvisation Network is a community of practitioners and clients who value the use of improvisation skills to improve organizations. It's composed of hundreds of practicing improvisers from around the world, using improv in business, healthcare, education and more.
As a qualified AIN practitioner, I join the ranks of less than 30 approved experts who are using improv in their training. For more, check out the Applied Improvisation Network, see my AIN profile, or learn about my corporate training that incorporates improv.