I recently helped produce the first ever Corporate Humor Awards as a way to celebrate those individuals and organizations using humor to improve the workplace.
The goal of the awards was to not only recognize those already using humor, but also increase awareness of the value of humor AND share creative ideas on how to go about using humor.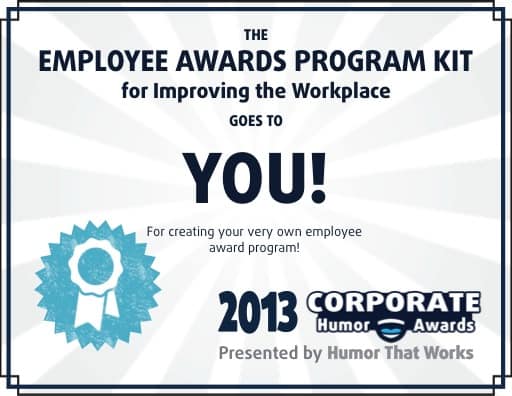 You can bring those same benefits to your organization with your very own version of employee awards (whether humor focused or not).
To help you get started, I've created an Employee Awards Program Kit. The kit is completely free and contains everything you need to host your own humor awards:
Employee Awards TOC
Employee Awards Guidebook
Example Project Schedule
Example Award Categories
Example Nomination Form
Example Awards Program Emails
Digital Certificate Example / Template
Download the Kit:
If you have any questions about how to set up your employee awards event, or want to bring an experienced MC to host your event, email me at andrew@humorthatworks.com or call 646-543-7398.