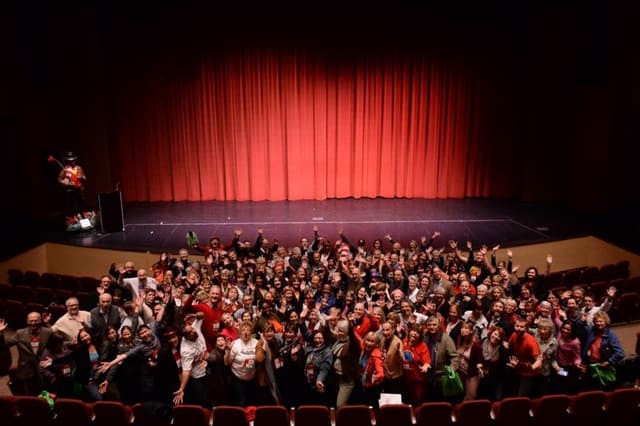 This past weekend I presented at the annual AATH Conference in Vincennes, IN (the birthplace of Red Skelton and home of the Red Skelton Museum). If you're not familiar with AATH, it stands for the Association for Applied and Therapeutic Humor and is an organization dedicated to helping people practice and promote healthy humor.
It was a great weekend learning from fellow humorists, with lots of laughs and plenty of learning. Here are some of my top takeaways (some of which were shared via tweet throughout the weekend; to see updates from future events live, follow me @HumorThatWorks).
Optimism for Dummies. Joyce Saltman
There's no premium on dying in Florida.
People who believe they can't, don't.
"You become what you think about." –Earl Nightingale
Love and Laughter. David Coleman
3 Things to live healthier and happier: 1 Food, 1 Thought, 1 Action.
1 Food: What's your one food that is bad for you that you habitually eat? Cut down the frequency you eat it in half.
1 Thought: What is one negative thought you repeatedly tell yourself? When that thought comes to your head flush it and take it to it's logical opposite.
1 Action: Find 1 action you can do 3 times a week for at least 20 minutes that will make you healthier.
Humor and Coping with Life's Little Inconveniences. Christine Clifford
Humor is a great connector of people.
Using Improvisation to Enhance Learning. Eric Margerum
In improv, you don't have to try to be funny. Serve the material and you'll do great.
Yes And can change a classroom.
Healthy Humor for Happy Hours. Lenny Ravich
Healthy humor doesn't mean avoiding the issue. It means addressing the humor in a lighter way.
When you give a hug, you get one.
When is the most powerful and exciting moment you have? Now.
Humor and the Meaning of Life. Don Baird
The human tragedy isn't that we die, it's that we waste the time we have while alive.
What Studies Show: Sensible Skepticism About the Science of Snickers. Steve Wilson
The two most dangerous words in the English language are "Studies Show."
We are in the infancy of learning about being human.
Beware of "photoshopped" data.
Building Healthy Humor Habits. Cliff Kuhn
Humor is a potent stress modifier. And it can work almost as quickly as the speed of light.
If you drink too much you get drunk. If you think too much you get thunk.
If you're interested in learning more, check out AATH's website. Want to learn more about humor in the workplace? Check out the humor at work infographic.