Showing employee appreciation through an awards program has a number of benefits (in fact I've spelled out three of them for you in 3 Reasons to Create an Employee Awards Program). But just because recognition for employees is a serious matter doesn't mean it can't be fun.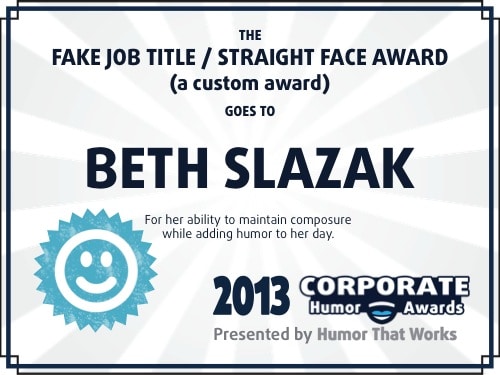 That's where custom awards come in. In addition to your traditional office awards, these creative awards celebrate the unique employees in your organization in a fun way:
What is a Custom Award
A Custom Corporate Award is a way to celebrate individual personalities in your company. With these awards, the nominator creates the award name, award criteria, and the winner.
Example Custom Awards
Here are some of the custom awards I've come across in my time as an award producer / host:
"Most Likely to Answer a Question with a Story Award" for a manager who always answered questions with some type of story.
"Fake Job Title / Straight Face Award" for an employee who would make up a new job title every time the phone rang.
"Ties Everything Back to Milkshakes Award" for someone-who-won't-be-named for unsurpassed devotion to relating business matters to milkshakes.
Of course the actual awards are entirely up to your organization.
Why You Should Include Custom Awards
Custom Awards allow your organization to express its personality, and celebrate the personality of all of its employees, by recognizing people for their individuality.
They also help to add humor to existing rewards and recognition programs by adding creative awards that stand out among your typical awards.
How to Include Custom Awards
Including custom awards in your employee appreciation is easy: just follow a streamlined version of the 8 Steps of Creating an Employee Awards Program:
Collect Nominations: Create a process where employees can create custom awards, specifically nominating: a award name, award criteria, and the award winner.
Pick the Winners: If you have too many nominations, you can narrow down the "winning" custom awards, or you can choose to share all of them.
Announce the Winners: As part of your ongoing rewards and recognition, announce the "winning" custom awards to celebrate your organization's unique personalities.
Employee Awards Program Kit
For more details, or to find out how to create your own employee awards program, download the completely free Employee Awards Program Kit and start recognizing your employees today.