We've gathered some of the world's most renowned corporate humorists to serve as our panel of judges to select the award winners. Through our profile series, we'll learn a little more about each one.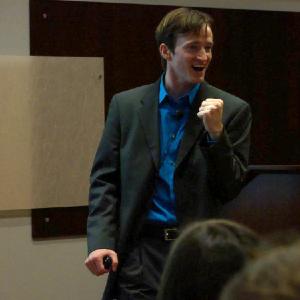 What is your name?
Andrew Tarvin.
What are you best known for?
I'm probably best known for applying engineering concepts to humor and applying humor to engineering concepts. Also puns.
How long have you been in the humor space?
I started performing improv in 2005 and started writing about the value of humor in the workplace in 2007.
How did you get started using humor?
My friends and I decided to start in improv group when I was in college. I fell in love with making people laugh and continued doing improv and stand-up after I graduated. I started to see the value of using humor at work, so I started writing about it, first on an internal blog at Procter & Gamble, and then through Humor That Works. From there I started offering trainings and ended up writing a book about the topic.
What is one thing you wish everyone knew?
The power of "Yes And." It's a concept from improvisation and that phrase alone can dramatically improve your work and life. Also please know that if you stand on the left side of an escalator, I secretly hate you (not forever, just while you're standing there).
What is your favorite food?
Milkshakes.
People should contact you if…
They are interested in learning about how humor can make them more productive, improve their communication skills, or even make them more money. Or if they want to hear a pun.
For more information on Andrew, check out www.HumorThatWorks.com.