Should You Forward that Email?
A flow-chart to help you decide if you should forward that funny email: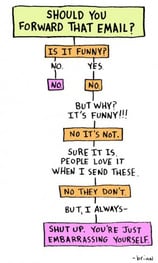 (from Shoebox Blog, via Gizmodo)
Want More Humor?
Join over 2,500 monthly readers and get a dose of humor delivered to your inbox (plus you'll receive a free PDF of the Humor That Works ebook).