This is a Book Review for Faking Smart!: Get Hired, Get Promoted and Become a V.P. in Six Short Weeks
by Karl Wolfbrooks with Martin Fossum. You can also check out other book reviews on Humor That Works or see our recommendations in our Humor Resources.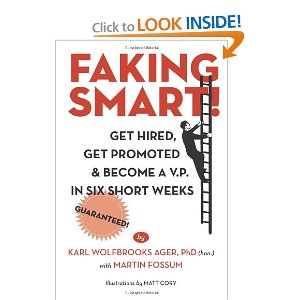 Book Synopsis
Faking Smart! is a book that will astound, enlighten and terrify any person willing to approach the job market from a new angle. Faking Smart! shows you how to get hired, get promoted and become a VP, in six short weeks – GUARANTEED! That's right, in six short weeks you'll have everything any low-level corporate executive could ever wish for – unlimited horizontal job potential!
My Thoughts
I'll admit that just by looking at the book, you think it's actually a book about the importance of appearance in your perceived level of intelligence. However it only takes you reading the Foreword of the book to realize it's something entirely different: it's a satire of the countless business books out there.
Hailing from the "Faking Smart Research Institute," Karl Wolfbrooks Ager, PhD (hon) takes us through the 6-week process of getting hired, getting promoted and becoming a Vice President. Along the way, Ager (with Martin Fossum) shows he has a good understanding of the stereotypes of the corporate world and has likely spent countless hours pondering the absurdities of our current work environment.
In a quick 133 pages, the book covers just about every cliche of business books and the corporate setting. From the business world's love for graphs, flow charts and numbered lists to the trivial nature of some degrees, titles and certifications (you get one at the end of the book), Faking Smart! covers it all. They even spend some time on the importance of widgets to the economy.
My Favorite Part
My favorite part of the book were the references to IT (clearly he's worked with people like me before) and just about every reference to InCredidata (or whatever company it is). I also like the self-awareness of the writers in the Interview on page 129 where they basically break down the idea of the book in one page.
The Bottom-Line
If you're looking for a quick, entertaining read and are a reader of business books / employee in the corporate world, this will certainly keep you entertained. If you're looking for a way to actually fake being smart (as many people who saw me reading the book thought it was), you'll probably want to look somewhere else.
Rating (out of 5): 🙂 🙂 🙂 🙂
Buy it on Amazon: Faking Smart!: Get Hired, Get Promoted and Become a V.P. in Six Short Weeks – GUARANTEED! (Volume 1)